Better Than Coffee enamel pin
$1000

$10.00

This product is available.
---
---
This Pin is from my Japanese Lolita Tea Party series, that was funded on Kickstarter.
⬡⬡⬡⬡⬡⬡⬡⬡
⬡ 5 cm wide (about 2 inches wide)
⬡ Rose Gold
⬡ Hard Enamel
⬡ Backing Card
⬡ Back stamped logo
⬡ Two Rubber clasps
⬡ The Japanese text says ocha which means tea
I do retain the rights to the art work I made on this pin, do not use without permission.
Colors may be different due to monitors altering colors, or lighting of photos.
Please see FAQs page for quality definitions.
Customer Reviews
Bigger than expected
Badge was bigger than expected but love it anyway. It is of high quality. Delivery is prompt. Will buy from this buyer again.
Great Condition
I got the better than coffee and Kiki's moonlight ride pins. They came in a timely manner and in great condition. I only wish there was something that made the package more personal, like a handwritten note. I'm a sucker for surprises, but I guess if I'm expecting it, maybe it isn't a surprise anymore?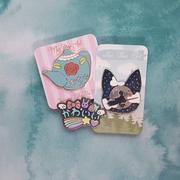 ---
We Also Recommend
Pins are inherently handmade items, this means that in general they will have minor flaws. 
Quality definitions:
        ⬢ Collector*: perfect pin         ⬢ Standard**: minor flaws such as (but not excluded to) minor scratches, minor underfills, minor specs, and screen printing slightly misaligned         ⬢ Seconds***: more noticeable flaws such as (but not excluded to) larger scratches, poorly mixed enamel, missing enamel, larger specs, significant under fills, tarnished metal, missing enamel, significantly foggy clear or stained glass enamel.
Please note:
*The chances of a "perfect pin" without any flaws is between 0%-5% per batch of pins.  I grade the pins with this in mind. To avoid the extreme stress of not being able to meet this expectation of perfection, I often do not provide collectors quality. I choose instead to not grade for collectors and bundle anything that may be considered collectors in with the standards.
**Please note on Clear Enamel Pins that bubbles are considered Standard quality as they are unavoidable.
***While seconds pins are inherently "flawed" I would not consider these flaws to be so noticeable that the pins are unwearable.. There will be no issues like a broken pins, or a broken/missing back posts.