*LIMITED EDITION* Jiji print cosmetic/pencil bag
$1200

$12.00

This product is available.
---
---
DETAILS:
-SIZE: 10 cm tall, 4cm deep, 18cm wide
-Mei Bee Art Logo tag inside
-3 pockets
This bag seems small but can fit a Samsung Galaxy S9 plus, and plenty of other items in it! I would say it is a PERFECT cosmetic bag, since it is also water resistant.
Please be care with the strap, it is fragile.
This is fan art, I do not claim ownership of any characters or places in this pin. I do however claim the rights to the art work I made on this bag, do not use without permission.
THIS IS A LIMITED EDITION ITEM! ONCE GONE IT WILL NOT COME BACK
Customer Reviews
06/12/2020
Stephanie D.

United States
Bag of Holding
It's so cute and holds a lot more than you'd think!
06/04/2020
Zoe B.

United States
Gorgeous
I love this bag! Its super well made and so pretty!!
03/27/2020
Ruth M.

United Kingdom
Lovely Little Bag!
Lovely & Pretty & Simple Design! Has 3 pockets ~ one smaller than the other two. Fits a good amount of pens, pencils, eraser, sharpener, tape and small scissors & ruler in there!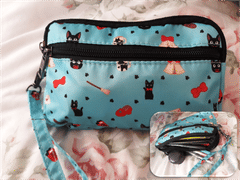 ---
We Also Recommend
Pins are inherently handmade items, this means that in general they will have minor flaws. 
Quality definitions:
        ⬢ Collector*: perfect pin         ⬢ Standard**: minor flaws such as (but not excluded to) minor scratches, minor underfills, minor specs, and screen printing slightly misaligned         ⬢ Seconds***: more noticeable flaws such as (but not excluded to) larger scratches, poorly mixed enamel, missing enamel, larger specs, significant under fills, tarnished metal, missing enamel, significantly foggy clear or stained glass enamel.
Please note:
*The chances of a "perfect pin" without any flaws is between 0%-5% per batch of pins.  I grade the pins with this in mind. To avoid the extreme stress of not being able to meet this expectation of perfection, I often do not provide collectors quality. I choose instead to not grade for collectors and bundle anything that may be considered collectors in with the standards.
**Please note on Clear Enamel Pins that bubbles are considered Standard quality as they are unavoidable.
***While seconds pins are inherently "flawed" I would not consider these flaws to be so noticeable that the pins are unwearable.. There will be no issues like a broken pins, or a broken/missing back posts.